Optional Power
NEW Solar Panel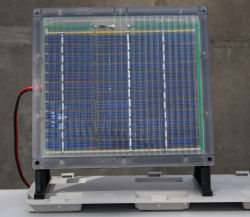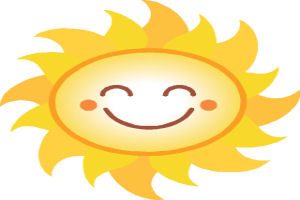 The SkyTracker™ solar kit includes the 12V/50mA solar panel itself, upright stand for mounting the panel, Hall Sensor Cable configured for the 12-volt solar panel and base plate. It does not include a 12-volt storage battery or case, if you choose to add an automotive type battery. Those can be secured locally without additional freight costs that would be incurred if NASCorp shipped an automotive battery for the solar panel. The dimensions are 7″ x 6.5″ x 1″. Power (Max) is 1.26W. Current (Max) is 70mA.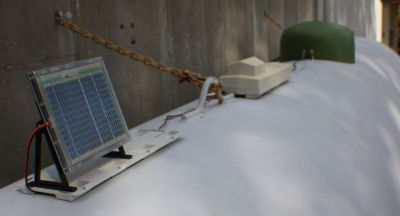 The solar panel converts the sunlight into electric power, for recharging a battery. As stated, it is a 12-Volt system that is compatible with SkyTracker™. The 12-Volts do not come through the battery connection. Instead it is supplied through the Amp Seal Connector, a part of the external Hall Sensor Cable. It has a blocking diode built in the circuit to prevent stored energy reversing flow to the panel at night.
The panel has a two (2) year limited warranty on defects in materials or workmanship. It is CE certified and is all weather protected; specifically engineered for use in marine applications, being water-, rust- and corrosion-proof and protected from UV and solar radiation; strong enough to endure wind, rain, salt air, and durable enough to support an adult male if stepped on.
Quantity discounts are available.